We are exciting to be using Brella at the Diversify Nordics Summit. Brella's tailored made intents and networking features you would be able to to connect with other attendees service providers in a smooth and efficient way! Watch this space! In the coming weeks we will update you with more information on how to use Brella at the Diversify Nordics Summit
Amplifying Diversity, Equity & Inclusion in the Nordics.
The Diversify Nordic Summit is the first-of-its-kind conference on Diversity, Equity, Inclusion and Belonging that brings together intersectional stakeholders from Denmark, Finland, Iceland, Norway and Sweden.
The Diversify Nordic Summit (DNS) on diversity and inclusion is the first-of-its-kind conference in the Nordics that centers diversity, equity, inclusion and belonging (DEIB). Now more than ever, there's a need to:
create inclusive and human-centric hybrid workplace environments to recruit and build productive and efficient teams. 

ensure a collective Nordic society that is inclusive of all its inhabitants across social systems and structures.
The DNS is a meeting place for practitioners in the Nordics to share their work and discuss themes across diversity parameters including but not limited to gender, ethnicity, religion, neurodiversity, race, sexual orientation, identity, disability, age and other topics relevant to the priorities that intersect with the workplace and society at large.
Engage in this full-day event that addresses current challenges in the Nordics, and gain insight into practical, impactful and measurable solutions.
Join us to exchange ideas, explore solutions to DEIB related challenges in the workplace and society. Learn actionable best practices to implement today.
Join our Nordic-wide DEIB conference that gathers practitioners, leaders and companies to:
C-Level Executives including but not limited to:
Vice Presidents and Directors of:
Professionals with responsibility for:
DEIB practitioners, consultants, service providers & enthusiasts
All-level employees, job-seekers, students and individuals with an interest in DEIB
Policy makers, politicians, media personnel, journalists, writers, civil society, cross-sectoral NGOs
The State of Diversity & Inclusion in the Nordics 2022
Join us for a full day of insights within the following six thematic areas.
Workforce Diversity + Recruitment
Create and sustain a diverse, inclusive, and engaged workforce at all levels.
Organisational Culture + Strategy
Ensure equal and Equitable opportunity within the workplace.
Inclusion, Equity, Belonging & Wellbeing
Cultivate an inclusive workplace where unique talents, skills, and perspectives are valued and leveraged.
Develop a collective understanding of DEIB principles across the organization and society to set a foundation for all interactions and initiatives.
Implementation, Measurement & Transparency
What gets measured gets done. Regular measurement and reporting keeps us focused and allows us to make informed decisions to improve results.
Technology, Innovation & Investments
Key areas for inclusion and growth. The business case for DEIB boasts increased creativity, innovation and productivity. Join us as we explore the nuances and the structures needed to ensure an inclusive, equitable and profitable engagement.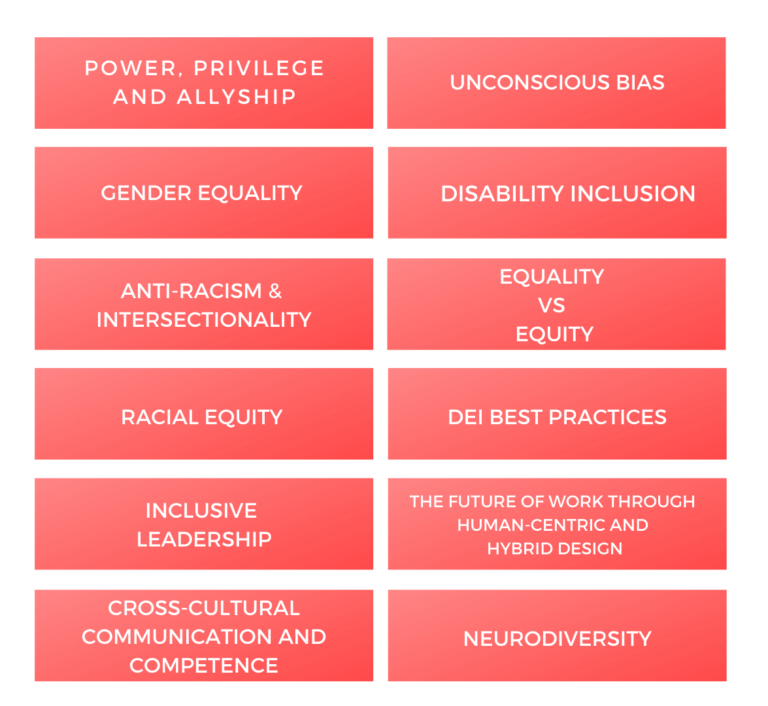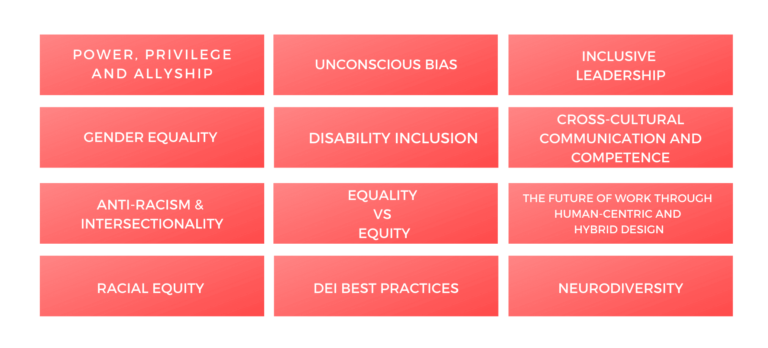 Want to partner with us?
Apply now!